Welcome to West Bengal Chemical Industries Limited (WBCIL), a pioneer in the world of Active Pharmaceutical Ingredients (API) and Fine Chemical manufacturing in India. With a legacy spanning over 55 remarkable years, we've evolved into a  top chemical manufacturing company in gobal arena synonymous with excellence.
At WBCIL, we don't just create chemicals; we craft solutions. Our expertise extends beyond boundaries, making us the go-to provider of specialty mineral salts. Whether it's for the pharmaceutical industry, nutritional supplements, food production, animal nutrition, or even gardening, we've got you covered.
What sets us apart?
It's not just our experience; it's our unwavering commitment to innovation. We thrive on challenges and adapt with the agility of a true industry pioneer. In a world that's constantly changing, we're your steadfast partner, always ready to meet your evolving needs.
When you choose WBCIL, you're choosing a partner who understands that chemistry is not just about compounds; it's about making a difference. Our dedication to quality, precision, and customer satisfaction is the cornerstone of our success. Join us in shaping the future of chemicals. Experience the allure of WBCIL, where innovation meets tradition, and excellence is our legacy.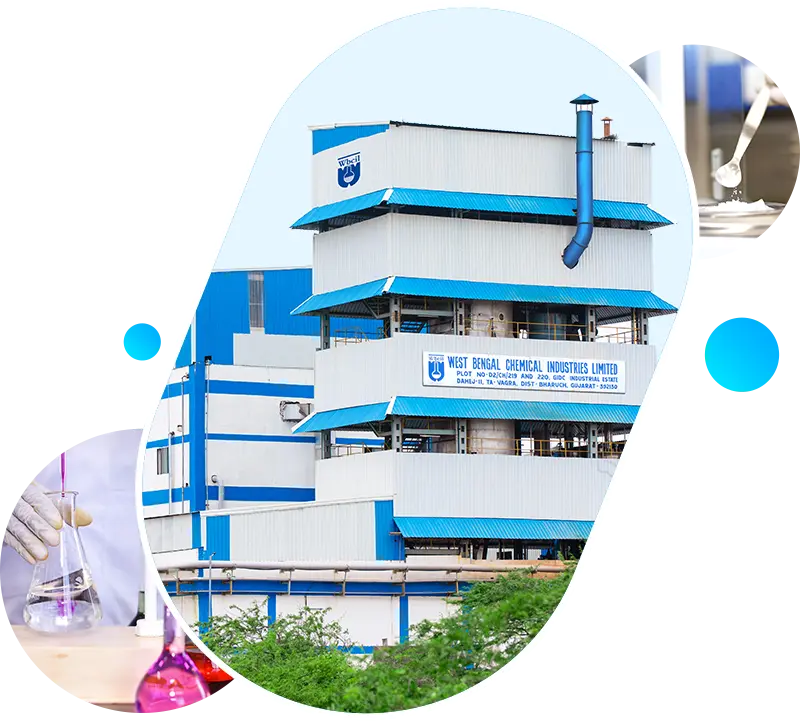 Our Business
WBCIL is appropriate for any market requiring high purity chemicals with specification. All the products have been designed to provide optimum performance across broader applications. The portfolio includes inter alia Iron, Calcium, Magnesium, Potassium and Zinc salts.Trace elements like Copper, Manganese, Chromium, are part of the product range as well. These minerals are available as Ascorbate, Acetate, Propionate, Phosphate, Citrate, Aspartate, Gluconate, Bisglycinate, Malate and several other anions. Our latest successful innovations are Liposomal minerals and Injectable Iron.
Mission & Vision of WBCIL
WBCIL believes in using Chemistry, Ingenuity, Perseverance and Cross-pollinating-Team-Work to produce high quality Active Pharmaceutical Ingredients for the Pharmaceutical, Animal Health and Consumer industry.
We at WBCIL are committed to Innovate, Customize and Manufacture best in class Active Pharmaceutical Ingredients that, when formulated into finished dosage forms, would bring longer, healthier and happier lives.
Our Values
Proud Patent holder of 7 products
WBCIL takes pride in being the patent holder of seven innovative products, including Ferric Carboxymaltose, Iron-Isomaltoside   ,Iron Coordination Complex, Ferric Derisomaltose, Ferric Citrate, Sucroferric  Oxyhydroxide, Enclomiphene Citrate. These patented products demonstrate WBCIL's commitment to research and development, offering unique solutions in the pharmaceutical and chemical industries. Clients can trust in the quality, effectiveness, and exclusivity of these patented products from WBCIL.
Wide range of chemical products
By offering a wide range of APIs, DC grade and premix, WBCIL caters to the diverse needs of industries such as manufacturing, pharmaceuticals, nutraceuticals  and nutrition. These minerals play essential roles in various processes and applications, and WBCIL's product portfolio ensures that clients have access to high-quality and reliable sources of these important chemical elements.
Ensuring Complete Client Satisfaction
WBCIL recognizes that timely delivery of supplies, maintaining consistent quality from batch to batch, and providing responsive, flexible, and attentive customer support are the keys to achieving total client satisfaction.
Continuously Evolving R & D Initiatives
Our R&D teams work tirelessly to improvise existing products, discover new analytical parameters, and develop latest products like bioactive vitamins, liposomal minerals ,injectable iron and so on. This involves extensive testing, analysis, and the development of processes that consistently produce safe and reliable chemical products.