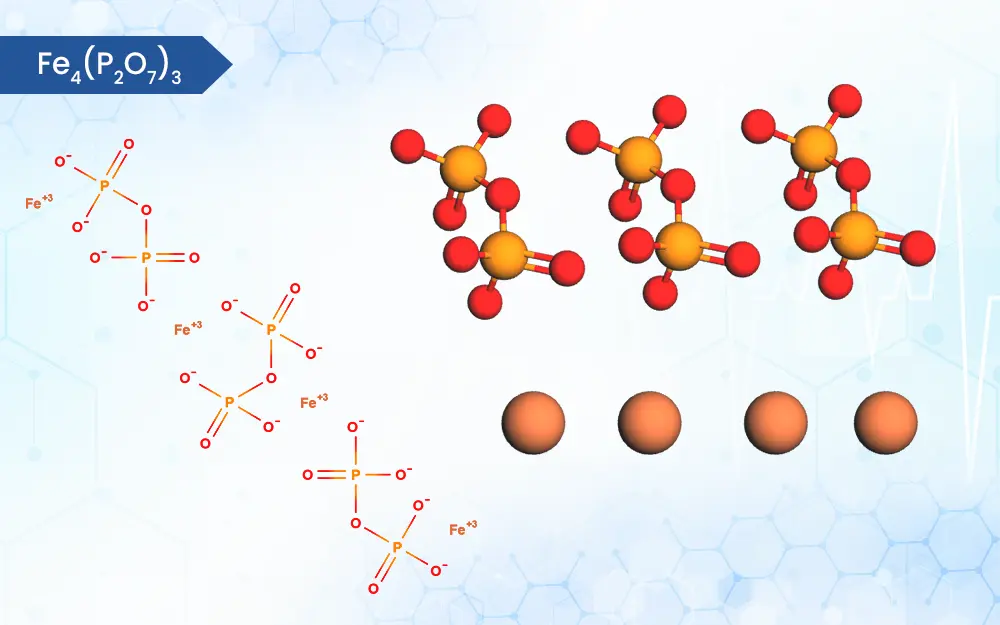 Product Name

Ferric Pyrophosphate

Molecular Formula
Fe4(P2O7)3
Molecular Weight
745.21 g/mol
CAS No
10058-44-3
HSN Code
2835
CID Code
24877
Shelf Life
3 years - 20°C powder
USP of Products

It is used for iron fortification in food like rice, wheat etc.
Ferric pyrophosphate is an excellent source of iron since it contains higher quantity of Iron as the color is white.
If you are interested on
Ferric Pyrophosphate
, then
Description of Ferric Pyrophosphate
Ferric pyrophosphate, also known by its chemical formula Fe4(P207)3, is an iron compound primarily used as a nutrient supplement and food additive. It's a water – insoluble white to brown powder that contains iron and pyrophosphate ions. This compound is commonly utilized to fortify food products with iron, especially in cases where traditional iron source may color changes, or stability issues.
Application of Ferric Pyrophosphate
Ferric pyrophosphate plays a vital role in addressing iron deficiency and enhancing the nutritional value of various food products and supplements.
Food Fortification
Pediatric Nutrition
Anemia Management