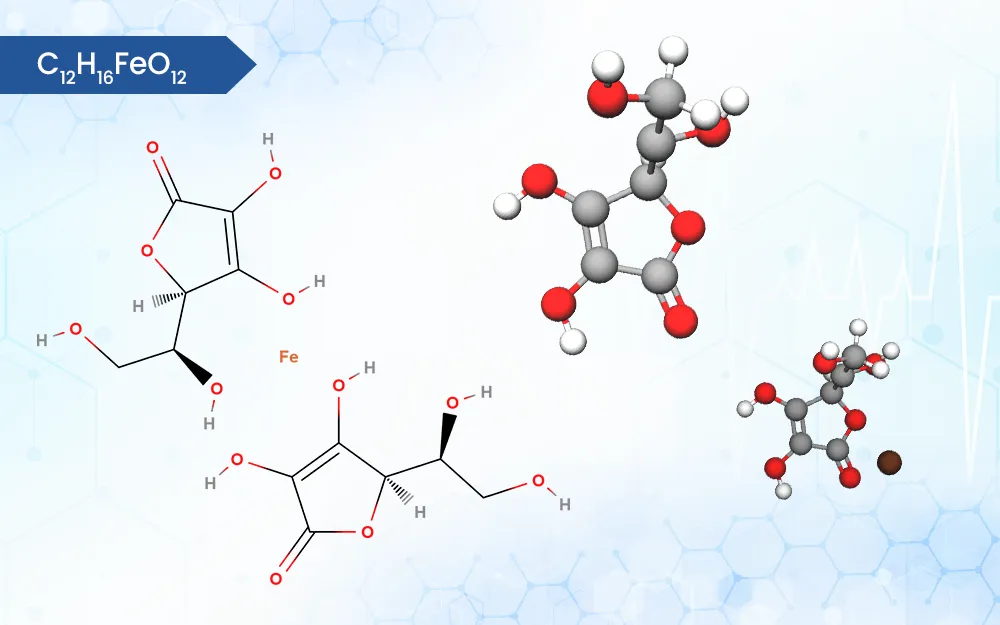 Product Name

Ferrous Ascorbate

Molecular Formula
C12H16FeO12
Molecular Weight
408.09 g/mol
CAS No
24808-52-4
HSN Code
30049099
CID Code
54695720
Shelf Life
3 years - 20°C powder
USP of Products

Ferrous ascorbate has been shown to have better efficacy , excellent safety and tolerability.
Significantly increases Hb level very quickly.
If you are interested on
Ferrous Ascorbate
, then
Description of Ferrous Ascorbate
Ferrous ascorbate is a synthetic chelate of iron in the ferrous state with ascorbic acid. The unique chemistry of ferrous ascorbate includes a high content of iron and its coexistence with ascorbate in the same compound. Since ascorbic acid is a potent reducing agent so it inhibits the conversion of ferrous to ferric.
Application of Ferrous Ascorbate
Treatment of Iron Deficiency Anemia
Prenatal supplements
Pediatric uses including iron drops and syrups
Nutritional Supplements
Chronic Disease` Management like inflammatory bowel disease (IBD) or chronic kidney disease (CKD).
Intravenous Iron Therapy