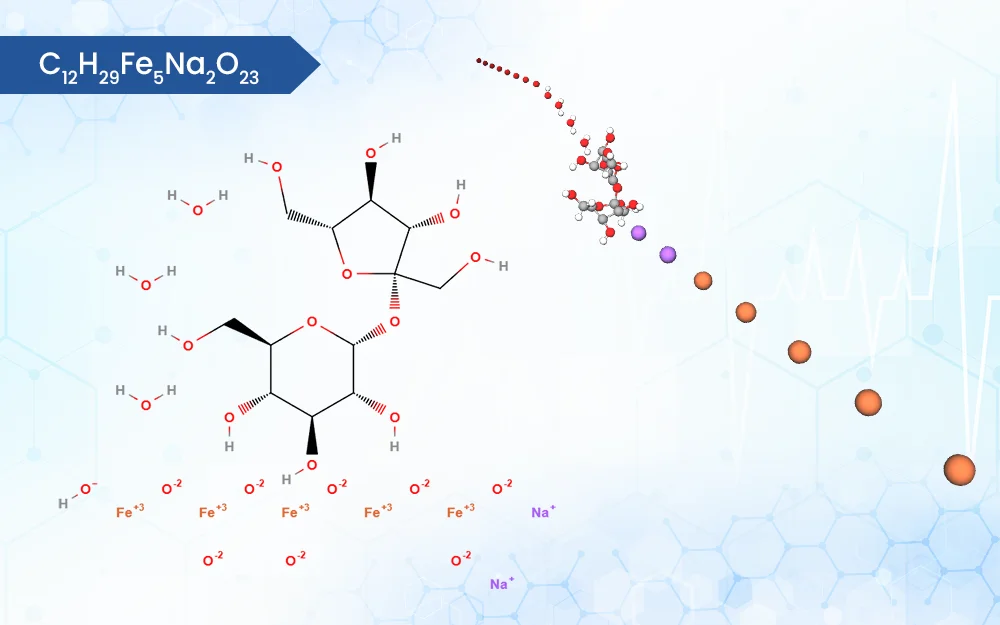 | Product Name | Sucroferric Oxyhydroxide |
| --- | --- |
| Molecular Formula | C12H29Fe5Na2O23 |
| Molecular Weight | 866.5 g/mol |
| CAS No | 8047-67-4 |
| HSN Code | 28211020 |
| CID Code | 91663255 |
| Shelf Life | 3 years - 20°C powder |
| USP of Products | Sucroferric oxyhydroxide is used to prevent and treat high phosphorus levels in the blood of patients with chronic kidney disease that are on dialysis. |
If you are interested on
Sucroferric Oxyhydroxide
, then
Description of Sucroferric Oxyhydroxide
Sucroferric oxyhydroxide works by lowering the amount of phosphorus the body absorbs from food. It belongs to a group of medications called phosphate binders.
Application of Sucroferric Oxyhydroxide
Phosphate Binder: It is primarily used as a phosphate binder in patients with chronic kidney disease (CKD) on dialysis. Sucroferric oxyhydroxide helps to reduce serum phosphate levels in these patients.
Hyperphosphatemia Management: Effective in the treatment of hyperphosphatemia (high phosphate levels in the blood) in adult patients with CKD on hemodialysis or peritoneal dialysis.
Lowering Phosphate Absorption: It works by binding to dietary phosphate in the gastrointestinal tract, thereby reducing phosphate absorption into the bloodstream.
Reducing Pill Burden: Due to its high phosphate binding capacity, it can be taken in lower doses compared to other phosphate binders, which potentially reduces the pill burden for patients.
Improving Mineral & Bone Disorder in CKD: By controlling phosphate levels, it contributes to the management of mineral and bone disorder associated with chronic kidney disease.
Non-Calcium, Non-Aluminum Based Binder: Offers an alternative for patients who may have complications or contraindications with calcium or aluminum-based phosphate binders.
Gastrointestinal Tolerability: Generally well-tolerated with a lower incidence of gastrointestinal side effects compared to some other phosphate binders.
Research in Non-Dialysis CKD Patients: While primarily used in dialysis patients, there is ongoing research into its effectiveness and safety in CKD patients who are not yet on dialysis.
Potential Cardiovascular Benefits: By managing phosphate levels, it may help reduce the risk of cardiovascular issues, which are common complications in patients with CKD.