Calcium Asparto Glycinate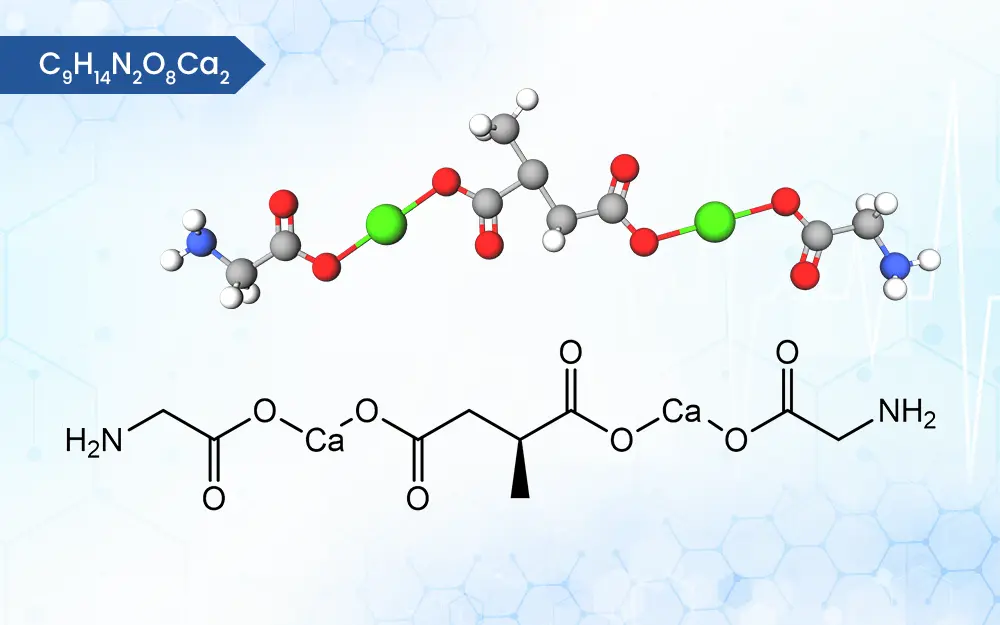 Product Name

Calcium Asparto Glycinate

Molecular Formula
C9H14N2O8Ca2
CAS No
2109632-95-1
HSN Code
29224990
Shelf Life
3 years - 20°C powder
USP of Products

Calcium Asparto Glycinate enhances the targeted delivery of calcium to specific tissues or cells in the body optimizing its physiological benefits.
Calcium Asparto Glycinate are generally considered to be more gentle on the stomach and are less likely to cause digestive issues.
Calcium Asparto Glycinate  offers enhanced support for bone health due to their potential for better absorption and utilization.
If you are interested on
Calcium Asparto Glycinate
, then
Description of Calcium Asparto Glycinate
Calcium asparto glycinate is a soluble chelated compound that combines calcium with aspartic acid and glycine. Calcium asparto glycinate is commonly used as a dietary supplement due to its potential to provide calcium and aspartic acid to the body.
Application of Calcium Asparto Glycinate
Preventing common bone disorders such as Osteoporosis.
Useful for aged individuals and women going through menopause who are at higher risk of developing bone disorders.
Hypocalcemia occurs when there is an insufficient level of serum calcium due to conditions such as hypoparathyroidism, Vitamin D deficiency, or renal/hepatic disorders.
The supplement also plays a role in maintaining cartilage integrity.