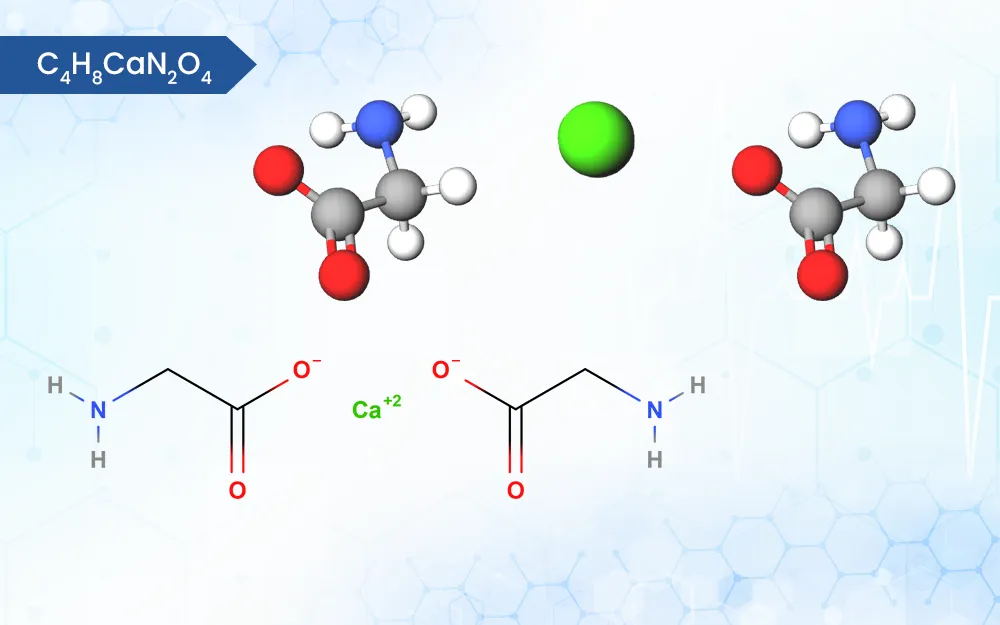 Product Name

Calcium Bisglycinate

Molecular Formula
C4H8CaN2O4
Molecular Weight
188.11 g/mol
CAS No
35947-07-0
HSN Code
30049039
CID Code
10130287
Shelf Life
3 years - 20°C powder
USP of Products

Chelation process enhances the absorption and bioavailability of calcium in the body than other forms of calcium supplements.
Calcium bisglycinate can be used as a source of calcium in various dietary supplements and fortified foods, including tablets, capsules, powders and liquid formulations.
If you are interested on
Calcium Bisglycinate
, then
Description of Calcium Bisglycinate
Molecular Formula: Ca(COOCH2NH2)2; Molecular weight (Mw): 188.11 Dalton. Calcium bisglycinate, also known as calcium bisglycinate chelate or calcium glycinate, is a form of calcium supplement that is often used to improve calcium intake and address calcium deficiency in the body. It is a chelated form of calcium, meaning that the calcium ions are bonded to glycine molecules, an amino acid.