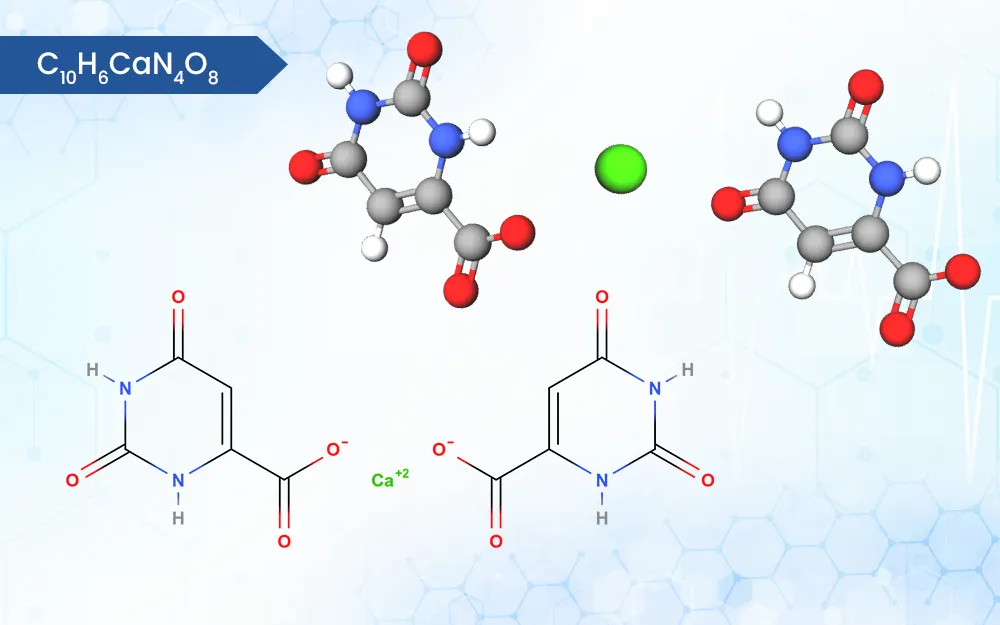 Product Name

Calcium Orotate

Molecular Formula
C10H6CaN4O8
Molecular Weight
350.25 g/mol
CAS No
22454-86-0
HSN Code
29335990
CID Code
89722
Shelf Life
3 years - 20°C powder
USP of Products

Calcium orotate provides highest absorbable calcium in low calcium content.
As a carrier orotic acid helps calcium cross cell membranes more effectively compared to other forms of calcium supplements.
If you are interested on
Calcium Orotate
, then
Description of Calcium Orotate
Calcium Orotate is a calcium salt of orotic acid and it's chemical formula is Ca(C5H3N2O4)2, indicating the combination of calcium (Ca2+) ions with two molecules of orotic acid. Calcium orotate is  a dietary supplement that provides both calcium and orotic acid.
Application of Calcium Orotate
Used to prevent or treat low blood calcium levels in individuals with inadequate dietary calcium intake.
Treats conditions caused by low calcium levels, including osteoporosis, osteomalacia, hypoparathyroidism, and latent tetany.
Ensures sufficient calcium intake in specific groups, such as pregnant or nursing women and those on certain medications like phenytoin, phenobarbital, or prednisone.