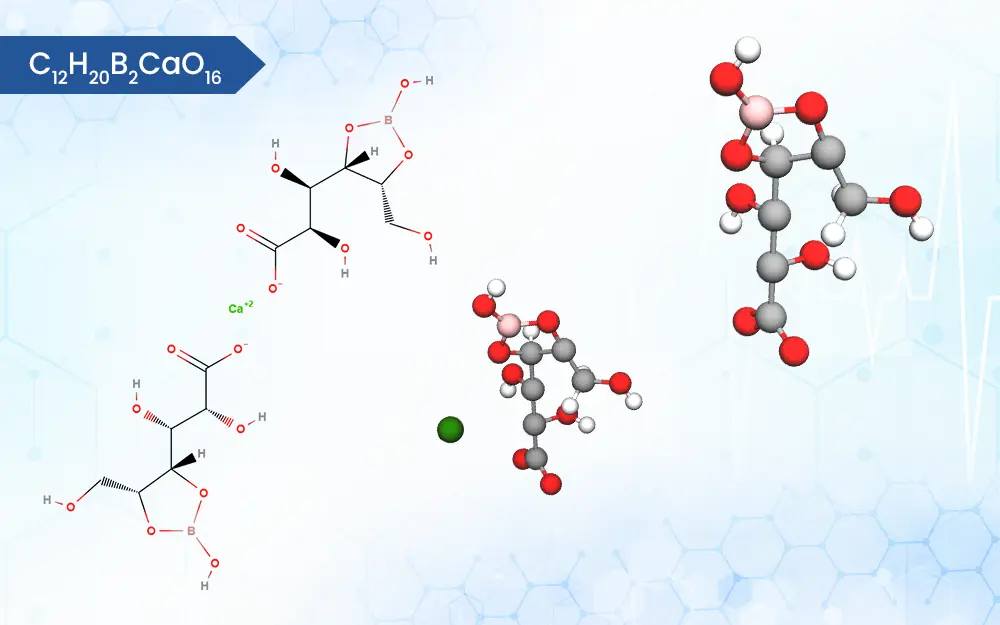 Product Name

Calcium Borogluconate

Molecular Formula
C12H20B2CaO16
Molecular Weight
482 g/mol
CAS No
5743-34-0
CID Code
73415816
Shelf Life
3 years - 20°C powder
Pharmaceutical Grade
29181690
USP of Products

Calcium borogluconate raises the calcium level in the blood and provides a balanced and controlled release of calcium.
Calcium borogluconate product is produced to high quality and safety standards
If you are interested on
Calcium Borogluconate
, then
Description of Calcium Borogluconate
Calcium borogluconate is a compound formed from one molecule of calcium gluconate and two molecules of boric acid by loss of water.
Application of Calcium Borogluconate
Used to treat hypocalcemia, also known as milk fever, in cattle, sheep, and goats.
Milk fever typically occurs during or near the time of parturition (giving birth) in these animals. It results from metabolic stress when the mother expends large amounts of calcium to produce milk for her newborn offspring.
Calcium borogluconate works by increasing the calcium level in the blood, helping to correct the imbalance caused by hypocalcemia.
The primary therapeutic goal is to alleviate the clinical signs associated with hypocalcemia, restoring the animal's health.